Toyota is Watching
Before yesterday, the last time I drove myself from Accra to Kumasi was almost a year ago. I decided to do it again yesterday, all by myself. It was quite eventful. I was unable to take note of things on the way to Kumasi as I was preoccupied with meeting a deadline. On the way back however, I have been quite relaxed and so I observed a bit.
Leadership is Cause, Everything Else is Effect
Between Ejisu and Konongo, I spent more than one hour in almost a gridlock on a highway;  a distance which should not take more 17 minutes if one is familiar with the terrain. Some very good SUVs were behind me and occasionally attempted to overtake me but had to rescind their decisions because the road wasn't clear from the opposite direction. So grudgingly, we all endured the 'go slow' till we went past Konongo. Then the cause of the very slow traffic became apparent.
A huge truck overloaded with timber was ahead of all of us and could hardly move, and will not allow others to overtake it either.
Such is the story of Ghana and many other African countries. This continent abounds in rich and ready talent; talent that can overtake and do exploits on the highway of development. Energy, zeal, ambition; all locked up behind slow lethargic dysfunctional greedy leadership.
Run Or Rust
On the way to and back from Kumasi, I made a stopover at the Paradise Rest Stop to grab a quick lunch in their 'VIP Restaurant'. The food was great, service (all aspects of it) excellent, and cost? Surprisingly low.The environment, very tidy. Washrooms, clean and fresh.
Hitherto, I'd have stopped at Linda d'Or;  it was the ish place before Paradise was born. The two are worlds apart. Paradise is everything that Linda d'Or is not. Simplicita.
When I was leaving Paradise, I counted at least 11 buses and many private vehicles. When I got to Linda d'Or, there was only one bus and about six private vehicles. Competition is good. If you don't run with it, you rust.
Master Your Turf, Rule It
So I overtook a Nissan Pick-Up just before we got to Bunso Junction. I could tell from my rear view mirror that the guy wanted to overtake me as well. He tried many times but I managed to leave him behind until we got to Apedwa Junction where the tarred portion of the road had ended. We began the rough patch. Before I could say Jack, the Pick-Up had overtaken me, sped off and left a thick column of red dust in its trail. I never saw even the tail light till I got Accra.
Toyota is Watching
As a student leader in the University Hall (Katanga) in those days, I had been part of a team that had had to write responses to many queries and allegations levelled against us by the university administration and all kinds of people. Some of these allegations were really banal and often outrageously ridiculous. One of such was a complaint received from the University of Ghana,  Legon and authorities of Volta Hall, to the effect that we, Katangees had 'stolen' a hairdressing salon signboard from Volta Hall. We had gone to University of Education, Winneba to take part in some games. On the way back to Kumasi, we got an invite from Vandal City (a province of Katanga), to grace their Hall Week celebration. We honoured the invitation and decided to say hello to the Voltarians. When we left, they claimed a signboard had disappeared and we were the prime suspects.
To this and any such queries, we responded, and signed off thus, " we have been watching, and we shall keep watching".
Towards the last lap of my journey,  a distribution van, with two huge eyes embossed on it, overtook me. It had inscribed on top of the eyes, "Toyota is Watching".
I couldn't help but notice a semblance of work going on on the Adoagyir-Suhum-Apedwa stretch of the road which was left for a very long time. As to whether it would be completed this time around or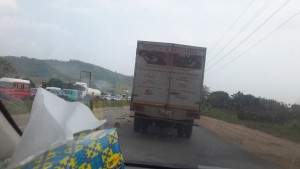 left for 2016 political points, well, let's just say Toyota is Watching.