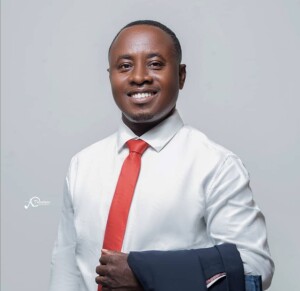 Mr. Emmanuel Gemegah is an accomplished educationist with over two decades of illustrious teaching career with the Ghana Education Service. He holds a Master of Arts degree in Human Rights, Conflict and Peace Studies from the University of Education, Winneba; and a Bachelor of Science degree in Entomology and Wildlife from the University of Cape Coast.
Mr. Gemegah is a strong advocate of quality education, having trained as a teacher from the Akatsi College of Education. Until his secondment to the Keta Municipal Assembly as Municipal Coordinator of the Nation Builders Corps, he was the substantive Headmaster of the Dzelukorfe E.P. Basic Schools, having also taught Biology in Keta Senior High Technical School (Ketasco) his alma mater, and other Science related courses at the Junior High School level in Kpando, Botoku, Aflao and Dzelukorfe; for many years. He is also an astute sports enthusiast, having been made Sports Master in all the schools he had taught in.
During his tenure in the aforementioned schools, he was deeply involved in leadership and served on a number of committees. Zee, as he was affectionately known among both students and colleagues, was PTA Secretary, House Master, and secretary to the Conference of Heads of basic Schools, Keta and Anloga.
In political circles, Emmanuel Gemegah is known as "Kaletor- Avutorsese", an accolade that speaks to his resilience, assertiveness, and fortitude. His leadership and political activism can be said to have begun from Avoeme Junior High School where he was elected Senior Prefect and continued all the way to the University of Cape Coast, where he became the National President of the Volta Region Students Association, Ghana (VORSAG).
Before this feat, he was on record to have been the first person to have served two terms as the local chapter president for VORSAG University of Cape Coast chapter. As National VORSAG President, he led the first ever joint voluntary teaching programme in which he rallied and deployed over 400 volunteers of Volta decent, from more than ten universities and polytechnics, to teach in under-served community schools in the Volta Region. Under his leadership, the famous Volta Inter-High School Quiz and Essay competitions were birthed.
Mr. Gemegah's exploits in the great elephant family are well documented. When he left the university, he joined the New Patriotic Party to leverage a bigger platform to contribute his quota to the nation building process, and the development of the Keta Municipality in particular. He is a grassroots man, well-loved by his people for his forthrightness. He is an enchanting orator and an eloquent speaker with an admirable capacity to reason on his feet.
Little wonder, he has been a Senior Communicator for the party in the Keta Constituency for many years. He rose through the ranks to become Constituency First Vice Chairman. He was not deterred by an earlier failure to run for the Constituency Chairman position. In 2017, Kaletor was among the five persons who aspired to take up the role of Municipal Chief Executive for Keta. Kaletor never gives up. When he sets his mind to it, he goes after it, no matter what the obstacles.
Emmanuel Gemegah is also a father and a husband. He is a native of Dzelukorfe Agbome, born to Mr. Raphael Kofi Gemegah and Madam Nicholina Afua Mensah.
<img class="j1lvzwm4" src="data:;base64, " alt="" width="18″ height="18″ />
<img class="j1lvzwm4" src="data:;base64, " alt="" width="18″ height="18″ />
31Bright Kpodoh, Don Saro and 29 others