The cliché, 'a nation which does not honour her heroes is not worth dying for', I am sure cannot be lost on any of us. Let me say I admire the political courage of President Mills to honour the young men who made Ghana, and indeed, the rest of Africa proud when they lifted the ultimate diadem at the just ended FIFA World Under-20 football tournament in Cairo, Egypt. He has proved beyond every reasonable doubt that we can take him for his words. I respect him so much and I say thumbs up for that. So like we say in our language 'ne ewoe wo nyoa, miakafuwo, ne ewoe wogblea, miado nkpe o'. We praise when must, and we must condemn in no uncertain terms when we must.
The award was by far a more sensible thing to do than, for instance, wasting money on celebrating the death of Kwame Nkrumah and declaring a public holiday in his honour. It doesn't make sense. He doesn't need it. He won't know we are doing any such thing in his name. It is also better than the purchase of gold necklaces for K4 and his ilk for absolutely no work done. If people need (emphasis on NEED) to be honoured, my humble opinion is that, the said honour should be done them when they are alive and not when they die. That is true honour.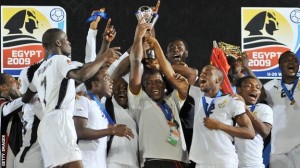 Soon after the award was presented to the young men, I heard all kinds of commentaries from so-called well-meaning people as to the appropriateness or otherwise of the content of the package. Dr Paa Kwesi Nduom for instance was not happy the boys were given cars. He and some others like him think the boys should be given houses. I disagree. The nation cannot afford to build any decent houses for these boys in their respective villages. At least, not now. Any attempt at that would be biting more than we can chew. Then we would be setting a precedence that we cannot maintain. These boys earn so much from playing football. That is their profession. If they can't build their own houses from their earnings, I am afraid the nation cannot and should not assume that outrageous responsibility. After all they can build better houses than what the nation would give them, so what's the point?
I also heard Dr Nyaho-Nyaho Tamakloe, one time GFA Boss and ambassador under the K4 regime, suggesting that the award should be extended to cover the management team. He said they should also be given cars etc. I felt that was another very dangerous ground to thread. These people have been paid for their services. They also received fat allowances. When students receive Head of State awards for excellent performance in BECE and SSCE, who gives anything to the teachers who taught them? By the way, do we have any idea how many people would come up to be honoured for the various roles they played in the victory of the Black Satellites? Please, let's not go there.
Anyway, I have the feeling I deserve some awards too, here in the cold. Can anybody tell Uncle Atta to put together some 'konumtea' for that purpose?
Worla 10-11-09.